Mascots. Oh, what fun! When I mention mascots I'm not referring to "Tigers", "Dolphins", or "Spartans", but rather mascots that refer to American Indian people and culture. And everyone has an opinion about them because they are everywhere. This is an area I can say I have intimate experience with as I've fought a mascot war and, somehow, won. We all know what they refer to: Chiefs, Warriors, Indians, Redskins, and more. More and more people are publicly discussing American Indian mascots and the affects it has on a number of issues from test scores to self-identity and from community pride to honoring traditions. Movements have been created to abolish mascots as well as "save" them, conferences and conventions are continuously held attracting both media and scholarly attention, resolutions are passed among organizations, and legislation has been passed to both abolish and keep them. One could say there sure is a lot of fuss about mascots and American Indian people. This is my input.
I'm "new" to the mascot game. Mascots and the use of American Indian imagery have been around longer than I have been alive. My experience with mascots growing up wasn't what it was like when I became an adult because they weren't important to me or anyone I knew. I grew up on the Lac du Flambeau Indian Reservation in Northern Wisconsin, a beautiful woodland Ojibwe Indian community filled with lakes and streams that attracts visitors from all over the globe. During my upbringing there was a clash of cultures that made international headlines centered around my people's right to fish off the reservation. My people, the Ojibwe, retained their right to hunt, fish, and gather on the lands given to the United States Government for colonization and its resources. Reservations were created as a result of treaties and those who settled on reservations were affected detrimentally and the people soon lost much of its culture, language, and identity. The Ojibwe, like every other tribe, were to remain within reservation boundaries and become dependent on government assistance promised in treaties for the exchange of their lands or perish. It was that simple. With the government and its citizens focused heavily on keeping Indians within reservation boundaries, Indians avoided leaving the reservation entirely to avoid harassment, prosecution, and even death. The right to hunt, fish, and gather off the reservation was widely abandoned or done in secrecy.
Although generations of Ojibwe widely avoided exercising their right to hunt, fish, and gather off the reservations they never forgot their right. In the 1970's two Ojibwe members from the Lac Courte Oreilles Reservation were arrested by the Wisconsin Department of Natural Resources for possessing a fish spear and occupying a fish-shanty off the reservation. The State arrested the two men under the assumption that the Ojibwe had no right to spear fish outside the reservation. The members and their Tribe filed suit against the State of Wisconsin stating that the Ojibwe retained the right to hunt, fish, and gather off the reservation and that the State had no right to stop them from doing so. The lawsuit made state headlines and started heated discourse not only in the State of Wisconsin, but throughout the country on Indian Treaty Rights. It seemed everyone was invested in what the State had to say about the Ojibwe of Wisconsin and their right to gather off the reservation. The State of Wisconsin, unable to accept that one of its departments was wrong in its treatment towards Indians, ruled against the Tribes and their treaty rights citing that treaties were nonexistent. The Lac Courte Oreilles and other Wisconsin Ojibwe tribes appealed the decision and the United States reaffirmed the rights of the Ojibwe to hunt, fish, and gather within the ceded territory. One would think it would have ended there, but it did not. The State foolishly appealed the decision and the United States Supreme Court of Appeals refused to hear the appeal. Wisconsin's citizens reacted with uproar and began protesting by the hundreds near reservation communities, specifically during spearfishing season which was immediately when the lakes thawed in the Spring. Slogans such as "Save a Walleye, Spear an Indian," and "Go home, timber-nigger" were the battle cries of Northern Wisconsin's non-Indian community. This is the environment myself and my peers were raised in, it was normal to be hated simply for being Indian.
My community, like many other indigenous communities throughout the continent, is still struggling to survive and save what culture that managed survive. We lost so much. Decades of government neglect has led to reservation poverty, a poverty America does not want to hear about, yet far too many American Indian people know all too well. My exposure to other types of people only happened if my family left the reservation, which wasn't often, and was never polite as you read above. I, like many of my peers growing up on the reservation, wasn't raised to be concerned at all about the use of American Indian mascots. It wasn't until I became a teenager did I realize that I was "Indian" and different from those in the surrounding communities, which are non-Indian. Like my peers, I didn't like the stares directed towards me and my family when we left the reservation and knew all too well that those in the surrounding communities didn't like us because of our race. I knew at a very young age that I wanted to move far away from that kind of environment.
I went about my schooling on the reservation through 8th grade and continued with high school in the town infamous in its opposition towards the Ojibwe's right to fish, hunt and gather off the reservation - Minocqua, Wisconsin. It was either that or boarding school in Flandreau, South Dakota and with my parents being boarding school alumni that wasn't an option. To this day there is a one-sided version of the happenings of what the Lac du Flambeau Ojibwe is doing in regards to all things off the reservation and it doesn't include the Tribe's input. It wasn't until I left the Northwoods of Wisconsin that I realized how uneasy communities in Northern Wisconsin are towards my community. I strived to be an example as a student while attending high school off the reservation in any way I could because I was well-aware how people thought about those from Lac du Flambeau. I participated in as much as I could as a student and realized that in both the classroom and in team sports that I was often the only Indian in the mix. I learned as an adolescent that I was to both be a representative of my community and be my own person, which was not an easy thing to do because I didn't know how to do either of those things very well. I just wanted to be a kid. I didn't know how to answer questions as to what kind of food we ate, what kind of house we lived in, or what kind of god I had. I tried so hard to overcome stereotypes that my identity became a sort of avoiding being judged, not totally sure of myself. I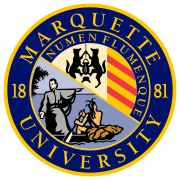 focused so hard on breaking the stereotypes of the dumb, lazy Indian that I was welcomed on the National Honor Society and became the Captain of the Boys' Varsity Basketball and Track & Field Teams. At the end of that part of my life, I had options as a result of my assertiveness and I choose Marquette University for a number of reasons, mainly because of its seal and all it represented - a former, longstanding partnership with the original people of the Great Lakes, the Anishinaabe. Anishinaabe is the word used by the Ojibwe, Potawatomi, and Odawa people of the Great Lakes for person or people. With encroaching European nations fighting over Indian land, the Ojibwe, Potawatomi and Odawa being similar culturally and linguistically, formed an alliance known as the Three Fires Confederacy. Although the Anishinaabe man appears submissive to Father Pere Marquette, the image communicated to me of the contributions of America's original people. I assumed the University honored a historical partnership of two nations, two peoples, two ways of life. I found out within a week that I was completely wrong in my assumptions.
Upon my arrival on campus I immediately noticed groups of students, mainly white/Caucasian, wearing a shirt that sported "Warriors Forever" that featured an American Indian "warrior". And I realized immediately that even if I had walked around with a shirt that featured such a statement like that that some people in my community would have something to say, most of those things not being very nice. In other words, I would never be brave enough to make such a statement back home and thought I'd start asking these students where they got that shirt from. Their response was either a blatant ignore or a "why?" I never found out where they got those shirts. I let that be for a while, but even then I felt uncomfortable. I later found out that the college I decided to go to used to have an American Indian mascot. I felt a sort of confusion because I didn't know what to think, but knew that had I known that before I chose this school I would have went somewhere else. Why? Because every day there was a student that featured the shirt and statement I saw on my first day on campus, which wasn't a great first impression and did not ever feel good.
I found out that some years before I went to Marquette that the former president of the University suddenly chose to change the name and mascot for reasons that are obvious and he was forced out of his position from alumni and members of the community. My hat's off to him. But at the end of my sophomore year at the commencement address, one of the board of trustees (I won't say who it was) decided to publicly donate the university $1,000,000 to the university if the school brought back the "Warriors". A good friend of mine was graduating so my mother came down from Lac du Flambeau to celebrate the accomplishment and as soon as we heard this public announcement we looked at each other in disgust as the entire stadium of 20,000 people cheered in applause. Even more disgusting was that if they school were to bring the name back several others would also match his $1,000,000. The crowd is going wild and I'm so upset I don't know what to do. My views and value towards my school suddenly changed. At the moment the President announced that the university would publicly deny the donation, but would seriously consider if it's possibility!
So the summer of 2004 Marquette University publicly announced that it would go on a "fact-finding" mission to gather data of whether it would be a good idea or not to bring the "Warriors" back. Can you believe it? Nonetheless, I come back to school that next fall confused, angry, upset, and determined to make sure my voice is heard. Why? No one else was going to do it. Suddenly, everyone on campus has something to say about the
Warriors
and I simply listen. The things I hear upset me more and more every day. And rather than act out about it, I became proactive. I decided to offer what I knew about my heritage and take it to the classrooms at Marquette. I started building relationships with professors and identified myself as American Indian and where I was from. Some dug it, some had jam-packed courses and didn't have room to offer a guest lecture. I start going into classes talking about literature, language, philosophy, political science, theology, anthropology, criminology, sociology and know nothing about these topics! And as soon as I'm done speaking I have dozens of students raising their hands to ask me about the mascot issue and I thought my evil plan worked. I gave them my opinion - "Imagine if your race, your culture and everything you think is sacred about it was made into a spectacle for others who do not know you or want to know you to make fun of it." But what's interesting about that whole experience of being in the classroom was students and the community could not separate its history with the use of American Indian imagery and no matter how hard they tried to bring it back and do the right thing it wasn't going to work. Of course, I have dozens of rebuttals such as "We want to honor you people," and "Why is it such a big deal?" Those questions alone demonstrate an inability for an individual to grasp the concept of the issue. Yes, I've dealt with other cultures and their uses in sports and media. Here's my response, "This isn't about them or how they feel about their culture, this is about American Indian people." Most people get angry because they can't get their way. I'm not budging.
One of the most difficult experiences for me in this experience was prior to one class (I'm always early to class) I hear some students making comments about "Who do these Indians think they are telling use we can't honor them or use their culture?" I kept to myself and kept listening. And as soon as the instructor walks into the classroom he joins in the conversation and adds to their statements adding that "we" get casinos and don't have to pay taxes and live off the government and get our school paid for. I stood up and could not help myself and just walked out of the classroom. I didn't know what to do. I'm feeling alone, isolated and everywhere I go I hear things like this. I have very friends during this process. I met this really cool philosophy professor who taught Leonard Peltier's book in this Theory of Ethics course and I went to him. He took me to administration and flipped out. An emergency meeting was arranged with all those who checked the box "American Indian/Alaskan Native" and the President of the University. It's a week later. I show up and surprisingly there are others who checked that box, they look like my non-Indian neighbors from back home. I'm alone. I don't care. I give the group my piece of mind and share how disrespectful and shameful the university should be to even consider bringing back a racist tradition for the sake of money. Everyone is uncomfortable and I demonstrate that's exactly how I feel every single class I walk into, every day. And there's a challenge with American Indian identity. Someone could grow up their entire life not realizing or embracing their heritage or cultural background and suddenly take advantage of it when there are benefits attached to it and somehow they are representatives of American Indian people as a whole. I explain my identity and why the issue at hand is such a disgrace to the university, considering it's a Jesuit school. I bust out quotes from the Bible, the President being a Jesuit has heard enough and he knows where I stand. He looks me in the eye and shares how much he appreciates me coming to meet him and will take my words and experiences heavily into consideration. All I can do is take his word.
Not long after that news stations found out there was an American Indian student who was very vocal in opposition the idea of bringing the name back and I started getting phone calls. I'm on TV regularly answering questions about where I'm from, why I chose the school, and why I oppose the name. I tackle any issue I can and hope it makes it on the air. I discuss the disgrace of honor - if you want to honor us, ask us. I discuss the use of other cultures and races and their uses of mascots and most people get upset. Think about this, what would America do if the Duke University Bluedevils suddenly changed to the Duke Whitedevils? And I simply stick to my viewpoint. After that I had someone from administration shadows me constantly, everywhere. It makes me uncomfortable. I get hate emails, death threats, my known friends get hate emails (probably from their friends) and people are staging walk-outs in class. As soon as I sit down everyone else walks out. Shit gets worse. This was only 10 years ago. When these things started happening I had a variety of faculty and staff reach out to me and offer support because no student would stick their neck out for me and be seen with me. I start hating where I go to school. It's difficult to even write about it because I just want to let it go, but I feel it is important. It shaped who I am, how I operate and how I get much of what I get done today. I speak what's on my mind because no one will.
Decision time comes and there are demonstrations all over campus, including one of my own and surprisingly I have a ton of support. People are coming up to me asking questions and silently root for me. I get it, I can see through pretentiousness. All day people are pacing waiting for the university to make a decision. It was the main story in the city all day long so I was talking to reporters and speaking my mind all day. The city was hearing what I had to say about what was going on at this school and I just want it to end. It was on live television when the President approached the press stand and made a surprising announcement that the University would NOT be going back to the
Warriors
and would be changing their name entirely to an entirely new name. There are mixed reactions. All of my supporters come up to me, hug me, jump around and it was a glorious moment. But what the facts have shown was that people felt that the current mascot didn't give them enough pride and wanted something different -
Warriors
was not an option. The President quoted me and said, "We can't teach one thing in the classroom and do another." People are outraged. They take their degrees onto the union and burn them up and share how the university took their identity from them. All I can do is smile and walk away. I can breathe. I did it. I made it.
As soon as the journey ended I went all over the United States speaking at colleges, conferences and events about the issue I just experienced and changed a lot of opinions from personal experience, not because of what I'm saying. American Indian mascots have no room in this country. It's time to go. Leave us alone! Let us determine our identity, our future, our culture and respect that. It's okay if we can make decisions on our own. If you want to respect us, ask us. It's okay to not know.
Thank you! P.S. No hate mail