With summer in full swing and flying right by, I have been meaning to blog and share my most recent updates with everyone for some time. Like everyone, I have been busy and trying to soak in the beautiful sun.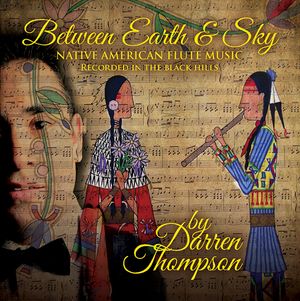 I am excited to share that after years of research and patiently waiting for the right team to fall into place, I released "Between Earth and Sky: Native American Flute Songs Recorded in the Black Hills"! It is an accomplishment and a relief to have this album done and available for the public.
About the project.
Between Earth and Sky was a tremendous project to work on, both in thought and in action. Like many things, it took some time to accomplish, making sure all the parts were set in place and, for the most part, that required simply waiting. It took years of preparation, to find instruments that have been recreated out of items that date back at least a 1,000 years and compose songs with them that had meaning and, more importantly, to find an engineer who understood sound and how to best capture it. It was incredibly important to me that this recording reflected the American Indian value of the reverence of the past, of where we came from as American Indian people - our abilities, our intellect, our expressions. Many of the instruments as well as the songs are influenced by the past, demonstrating that this precious instrument and its music is timeless. I recorded this project with Rick Vanness of Hill City, South Dakota in a few locations in Rapid City, South Dakota. I met Rick while on the production of "Neither Wolf Nor Dog" directed by Steven Lewis Simpson in the fall of 2014 on the Pine Ridge Indian Reservation. For more information about the film project please read my previous blog posting titled, "
Neither Wolf Nor Dog
". Some mornings, while preparing for the day's shoot I would play outside of the ranch we stayed at and Rick would randomly come up to me and not only compliment my playing, but would record me. And lo and behold, we discussed potentially recording and making an album together and considering how intensely I worked alongside Rick, I thought it was a great idea. Rick's skills and experience date back longer than I have been playing the instrument and I knew he was someone I wanted to work with. So, we started recording in the early part of 2015 and our locations included the Calvary Lutheran Church and Sage & Silver Boutique and Gallery. Not only was it a good time, but the recordings came along great! We cut 17 tracks and built the album 
Between Earth and Sky
. Some of the songs were influenced by songs I studied and listened to while doing research on old flutes in both the Milwaukee Public Museum and the Field Museum in Chicago, Illinois. It was such an intense experience for me to go into collections and study and feel the energy of instruments that I play to this day have a history dating back long before the United States of America. We are talking hundreds of years of what was accessible to me. It was my goal to highlight both the diversity of these instruments, in their sound, as well as the compositions. I feature old songs. While listening you will notice, while listening the melodies, that they repeat over and over, which was a common theme to American Indian song composition before the 1900s. Some of the instruments I have recorded with have been recreated out of artifacts dating back a thousand years! With many songs and styles lost with this instrument I had to create my own songs, my own melodies and this in itself was such a personal and spiritual challenge. With many songs originating from songs that influence song making to this day, I felt it best and most appropriate to partner with Drumhop Productions to create and distribute the album. Drumhop Productions is a widely recognized label/production company most noted for their intense collection of Indian Country's most noted Powwow Groups. The cover features both the design by Rusty Gillette, owner of Drumhop Productions, and original ledger artwork by Mrs. Lauren Good Day Giago. 
Between Earth and Sky
 is the first instrumental album in their impressive catalog. For more information on Drumhop Productions, please visit the website at
www.drumhop.net
. 
The art created for the project is an original piece made by well-known Arikara and Hidatsa Mrs. Lauren Good Day Giago and deserves recognition. The art form is a well-known style known as ledger art. Commonly used among Northern Plains tribes, it is a form that evolved from time immemorial and began its transformation to ledger accounting paper in the 1800's, during the reservation era where the United States Federal Government began its accounting of American Indians on reservations and their allotments. The theme in the art reflects courtship, one of the most common uses of the flute among tribes in North America. This piece not only reflects the past, but a significant aspect to courtship used since time immemorial.

There is a nice article on the album at Native News Online at http://nativenewsonline.net/currents/native-american-flute-player-to-celebrate-album-project-in-the-black-hills-darren-thompson-to-host-album-release-party-at-sage-silver/

If you are an avid online streamer, the album is available for listening via Spotify, Google Play, and iTunes. Search: Darren Thompson. 

Other than the awesome news of finally releasing my second album, I hosted my 3rd Annual Native American Flute Retreat in my hometown of Lac du Flambeau, Wisconsin this past June at Dillman's Resort. Students traveled from all over the Great Lakes to enjoy 3 days learning and growing with the instrument that not only has changed my life, but theirs as well. And again, tears were shed and requests to lengthen the workshop were made. So, next year in 2016 my workshop is being expanded to 4 days and will include the renowned flute-making talent of Brent Haines of Woodsounds Flutes. I am so excited to feature a flutemaker who can make such beautiful instruments. For more information on Brent, please visit www.woodsounds.net. But a little about this year's retreat. I never quite know how to prepare for my students as they all have very different expectations, experiences, and needs. But I find it fascinating that when beginning the workshop there are several students who have no playing experience and leave the workshop able to play entire songs and express themselves through the instrument. So much happens in so little time that students are often in tears with the intimate setting they are learning in, leaving me feeling so privileged that my work in all of my years continues to touch people in indescribable ways. Teaching for days, from morning to late afternoon is exhausting and I am always changed by people. This is my thank you to them. I have grown as a person and as an artist in sharing both my passion and my community. 

After hosting my workshop I had the amazing experience of performing for the first time at Big Top Chautauqua. A prestigious, non-profit performing venue that has hosted the talents of the late Johnny Cash, the Marshall Tucker Band, B.B. King, and the hundreds of other world-renowned talents, I felt extremely honored to take my talents to such an astounding venue. I hosted a workshop on a hot 90 degree afternoon with dozens of people and truly enjoyed the shores of Lake Superior. Later that day, Jim Belushi hosted a comedy show and I couldn't help but feel pretty good about sharing the same venue on the same day. There's a nice write up by Wisconsin Public Radio here: http://wxpr.org/term/darren-thompson. 

There is more exciting news and I'll share soon, but for now thank you! I am so humbled to share with you all. 

It is my hope that these instruments and their songs continue bring upon positive reflection and good thoughts.

Sincerely,

Darren Thompson