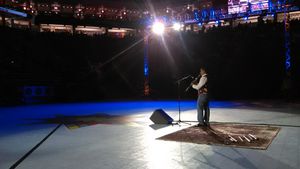 This April, I had the honor and privilege of being the opening act for the 2016 Gathering of Nations Powwow, which is the world's largest powwow, in Albuquerque, New Mexico. I joined thousands upon thousands of people representing all corners of Indian Country in celebration of culture, tradition and heritage. I met so many people from the moment I entered the Wise Pies Arena (The Pit) at the University of New Mexico until the moment I forced myself to leave. I saw smiles and beautiful faces all weekend and I wanted to share some of my experiences for your enjoyment.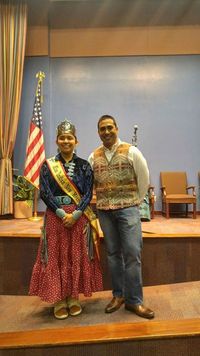 During my stay in New Mexico I had the honor of being the esteemed guest for the New Mexico Veterans Administration as they honored Native people and culture during a special luncheon. Hundreds of healthcare professionals spent their lunch hour listening and learning about my music and where I come from. I also had the privilege of sharing the hour with Miss Indian New Mexico Ms. Megan Brady-Bedonie, a very talented, determined young Navajo woman who has tremendous aspirations for her people and her life. After the performance we were both honored with a lunch and a giveaway that happened behind closed doors where many Native families came to support Megan and I on our journey to represent our people and families. I have never been treated like that and it was a humbling experience to have spent real time with people so far away from home. It was a genuine experience I will never forget. 
Later that evening, I had the most privileged evening to perform and share my story at the Albuquerque Center for Peace and Justice in honor for America's political prisoner Leonard Peltier. It was a very special day for me as I reflect on the beginning of my journey how supportive Leonard Peltier was for me, the encouragement I received from him while he had already been incarcerated for 30 years when we started communicating. The friends and supporters I've had for years visiting and spending their time with me was a very special time. Although sad, and somewhat somber, I had to take a moment out of time and pay my respect to his cause and to those who continue to support him. My music and time was only a blink of the effort of the many who continue to fight for his freedom. Nonetheless, it was a good time to connect with the many passionate people there who remember a difficult time for many American Indian people and the steps they took to stand up and fight for our rights and our self-determination.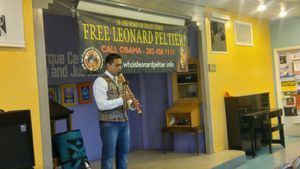 If you haven't been to Gathering of Nations, you might want to consider going, especially if you're a fan of art, music, and that genuine cultural experience. You will see families, generations, dignitaries, celebrities, love, and talent like no other place representing American Indian culture. Everyone is welcome. But it's a powwow, you will see thousands of dancers in their regalia and dozens of groups of singers representing all of Indian Country. They are the voice and heartbeat to powwow, they are the reason people dance. It's a beautiful thing to experience such a vibrant, beautiful culture thriving. Rather than go into the history of powwow, I would invite you to visit www.powwows.com to learn a little more about the specifics of what you can expect at a powwow. 

Emergence Productions did a fantastic job coordinating, promoting and running a variety of stages at Gathering of Nations powwow to ensure both the entertainers and guests could enjoy a wide variety of music and performances. They were so busy and overwhelmed one would think how do they keep it all together, but nonetheless they are one group of dedicated individuals working hard to share the love and talent from Indian Country's finest talent. I was honored to have worked with them and to have shared this year's powwow with the many people who came to Gathering of Nations.  

I left Gathering of Nations and New Mexico exhilarated, inspired, and motivated to approach my busiest summer of my life. I couldn't help but feel blessed, humbled, and honored to have met so many families that knew of my music and wanted to congratulate me and spend a simple few minutes with me just wishing me well. The love and energy I received from the many Native people was a sign to me that I was on the right path, that I am pursuing what I love to do and it's appreciated. During the powwow, I was overwhelmed with media, people, and not being trampled on! It's that busy. It was difficult to leave and I'm excited to go back again! I hope to see you all there next year!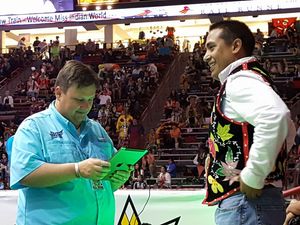 I have been extremely busy these past several months planning and preparing for the busiest summer of my musical career! So many exciting things going in many aspects of my career. I am approaching the summer as one of the main performers at the world's largest monument - the Crazy Horse Memorial! I will be there from Memorial Day weekend through the End of September! In addition, I will be opening for all of Brulé's summer concert series in Hill City, South Dakota at the High Country Guest Ranch. It's looking like an exciting summer and I can only be thankful for the people I've met along this journey, who have shared a moment or laugh with me. You give me the focus and drive I need to stay on this path. Please stay tuned to my concert schedule as many new opportunities continue to come up at www.darrenthompson.net/shows. I cannot wait to get this going! I will touch base as time goes along, but please come visit us all at Crazy Horse Memorial at www.crazyhorse.org.  
Baamaapii - Until next time!