March was a very exciting month for number of reasons. I have so many exciting things to share that it has taken me longer than I had anticipated to pull it all together. I've had some great experiences and am glad to say that I have much to share.
I'm in recovery mode from the month of March. I traveled to Louisville, Kentucky, Lake Geneva, Wisconsin, and Sault Ste. Marie, Michigan to participate in a number of events that promoted and advanced American Indian culture and communities.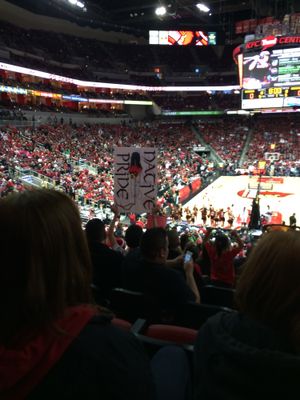 Starting with Louisville, Kentucky we had the opportunity to participate in the University of Louisville's Native American Appreciation Night in honor of the Schimmel Sisters from the Confederated Tribes of the Umatilla. I composed and performed an honor song in front of a sold-out audience in honor of Shoni Schimmel, a Senior and All-American from the Umatilla Tribe in the State of Oregon. As I arrived in Louisville I noticed Indian people from all over the United States had travelled to celebrate the contribution of the Schimmel Sisters. This rarely happens - getting that many Indians in one place for the same purpose. In my lifetime, this was one of the most memorable and respectful acts an organization has d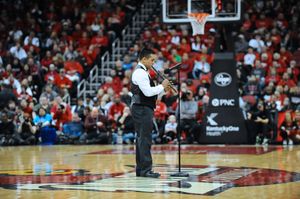 one to honor the contributions of an American Indian person and many were there to witness it. Not only did the organization squeeze the event on their already full season, but hosted it in the biggest game of the Louisville Cardinals Women's Basketball season as they hosted the top ranked Women's Basketball team in the NCAA. Invitations were sent to Tribes throughout the United States and as many as 300 tribes were represented. I saw people from New Mexico, New York, Michigan, North Dakota, Oklahoma, Minnesota, and Florida. I felt extremely privileged to share such an experience with my family and incredibly lucky represent not only them in such an honor, but all American Indian people. After the event I found out that the event was largest attended event in NCAA Women's Basketball history! 22,163 people attended the University of Louisville's Native American Appreciation Night to honor the success of one of the most successful American Indian athletes in history. It was a thrilling experience and my hat goes off to Shoni Schimmel and the success she has given not only to the University of Louisville, but the path she has paved for American Indian people everywhere.
Immediately the next morning I had to pack up and make it to Lake Geneva, Wisconsin to attend and present at the Wisconsin Governor's Conference on Tourism. Yikes! I had the honor to present with a panel of other individuals that are dedicated to Native culture and improving efforts to increase tourism and visitors to our communities. The message - if you haven't been to one of Wisconsin's Indian Reservations you're missing out! Seriously. There is much to enjoy and experience in each of Wisconsin's American Indian communities and we are always open to sharing who we are, where we come from, and where we want to go. I'm glad to say that I've met some great people at the conference, established wonderful connections, and became a partner with Native Tourism of Wisconsin as a result of the conference. The sky is the limit. Our collective goal is to showcase our cultures, assist Tribes in the State of Wisconsin in developing opportunities to do so, how to communicate such efforts, and how to build partnerships.These efforts and plans will be fully revealed at
Native Wisconsin's
Annual Conference at the Oneida Casino & Resort this June during my keynote presentation to tourism professionals dedicated to increasing visitors to Wisconsin's American Indian communities. Ultimately, we will build a better Wisconsin with everyone included. I had the blessing to close the panel with a song and exposed those who attended the panel to music that they never had heard creating an immediate curiosity of who we are, where we come from, and how to work together. Music has that tendency.
Upon my return home I began my music residency at the
Indian Community School of Milwaukee
. I have the extreme privilege to work with young minds for a period of time and teach them as much as I know about the flute. I have to pause a moment because this has always been a dream of mine, to give back to the next generation and I can't believe it is actually happening. It is a wonderful feeling to work with students and I leave the school every day extremely happy that I have this opportunity. The Indian Community School has a great asset in their music teacher, Ms. Amanda Satchell. I always find it extremely respectable for people and organizations to consult and invite local assets to contribute to their mission and goal and my hat goes off to her and her goals with the students. This action rarely happens to us. We have such a long history of people making decisions about us without consulting with us. When I began I was extremely impressed with the students progress already as most of them could already play the instrument to an extent. With time flying by we are already planning a community concert to showcase the students and the organization's dedication to preserving American Indian culture. 
A few days ago I just returned from the
Anishinaabemowin Teg's
Annual Conference. Close to 700 Anishinaabe language activists and educators attended the conference and I had the opportunity to create and deliver the children's program. And not only did I survive the conference , but I successfully delivered Children's Program of the Anishinaabemowin Teg's 20th Annual Conference. I had the opportunity to perform and showcase my music in front of the entire conference and my goal was to inspire our people through my music and I've heard powerful things from people. I heard wonderful things from children, from parents and from the conference itself in our contributions to the organization. I learned much about myself, where we can go, and most of all from the children themselves. It was one of the most memorable experiences of my life to work with Anishinaabe students from all over Ojibwe Country. There were many children who traveled hundreds of miles to be at the conference with their parents from both the US and Canada. Close to the conclusion of conference I got caught up a little emotionally as I realized that I didn't have all the time as I would have liked to work with them and that our family had the potential to touch the lives of our next generation in such a way. Young minds were learning as much language as I knew and that was extremely powerful in many ways. I look forward to working in more ways with the revitalization of our language and culture. If you have inquiries or questions about how to work with me please do not hesitate to email me at 
darren@darrenthompson.net
.
On the horizon are many great things. I'm looking forward to presenting and performing at Native American Tourism of Wisconsin's Annual Conference this summer. Not long after that I return home to Lac du Flambeau to conduct my Native Flute Workshop where students from all over the country are coming to attend. I want to give them a memorable time to always think fondly of their visit to Lac du Flambeau. There is much to accomplish this year and am looking forward to putting all of this energy into my music as I prepare "Red Notes". If you are attending NATOW's Annual Convention be sure to stop by and say aaniin! Aho! Mi-iw. That's it.
Baamaa pii (Until next time),
Darren Thompson