For the month of October, I had the once-in-a-lifetime opportunity to participate in Crazy Horse Memorial's artist in residence program. And while I've visited Crazy Horse on several occasions, I didn't quite know how being there every day would be as an artist. My art isn't something one can see or hang on a wall - it's something one hears and listens to. And while most can immediately acknowledge that there are different forms of art that appeals to our senses, not many people realize that there are rich, deep aspects of Native American culture expressed in countless ways.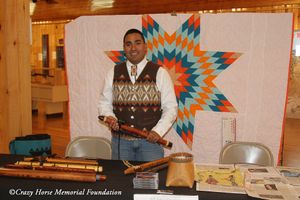 Like all other endeavors, I mentally prepared for my residency to represent American Indian people, the Ojibwe people, the State of Wisconsin, the Lac du Flambeau community, my family, and myself respectfully. In many ways, the residency was something I couldn't exactly prepare for because I didn't know what to expect. Throughout my years as a Native American flute player, I've had the opportunity to perform and share my culture with people and audiences from all walks of life. There has been one common factor, when visiting the United States people from other countries want to learn about America's first people. With that comes a deep, sometimes fanatical, interest. At Crazy Horse, I had the opportunity to share my music, my art, and my community with people from all over the globe on a daily basis. Every day I left the Memorial completely surprised at how many people spend their hard earned money, take time out of their lives to learn about our history and that to me was inspiring. For that reason alone, I think visiting Crazy Horse Memorial in one's lifetime is a must. As an artist, I felt beyond honored to know my art and music enriched people's lives and helped contribute to the mission of a world-recognized organization dedicated to America's first peoples. 

My preparation in many aspects was emotional. I felt like if there was ever a place that my art and music belonged, it was at Crazy Horse Memorial. So you can imagine I was extremely excited. While Crazy Horse Memorial is the largest monument in progress in the world depicting the Lakota leader Crazy Horse, it is far more than a mountain carving. It is an organization dedicated to protecting and preserving the culture, tradition and living heritage of the North American Indians. Crazy Horse includes the Indian Museum of North America, the Indian University of North America, and the Native American Education and Cultural Center. And it is awe-inspiring! Already branded as "one of the most inspiring places in the world," I left Crazy Horse with a new perspective on my art and, speaking frankly, my life. 

People say music is a universal language and my experience as the artist in residence at Crazy Horse Memorial proved that. I had the opportunity to interact with thousands of people who spoke very little to no English. People approached me with smiles and wanted to hear as much as they could, spending most of their time visiting Crazy Horse listening to my music. And while some were taken aback because I'm wearing "modern" clothing items (jeans, shoes, vest, belt) it demonstrated that we as a people are still here, still thriving, still holding onto traditions. As I've shared with them, the Native American flute is an instrument that has been in existence in this part of the world (North America) for hundreds and hundreds of years and like us, it's not going anywhere. It is unique in the world of wind instruments in that it is the only wind instrument that NEEDS two separate chambers to make its noise. There is a rounding of sound if we want to speak technically, causing a round, warm sound that is pleasing to all that hear the instrument.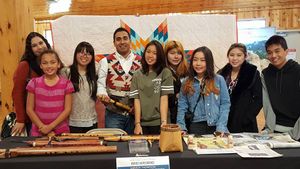 Especially touching was the welcoming of the staff and leadership at Crazy Horse. Collectively, they have worked with the best of the best in Indian Country for longer than I have been alive and I felt incredibly blessed to have made an impact on those that walk the floors of the Indian Museum of North America on a daily basis. To hear good words of encouragement and gratitude from those same folks was more than worth it. They are doing an incredible job at Crazy Horse as they continue to develop an experience that enriches the many people that travel to the Black Hills of South Dakota from all over the world. People these days aren't easily impressed, but when one experiences the Memorial's history firsthand from the family and folks that started Crazy Horse from a bare mountain realize Crazy Horse is monumental, literally and figuratively. What most don't realize is that all of the work over the past several decades has not involved federal or state government funding and doesn't plan to. The monumental goal to create the world's largest monument is accomplished by the dedicated and creative people that focus their minds on telling the story of the American Indian people. And like anything successful, it takes dedication, hard work and many people to do so. But more importantly - who better to tell the story of its people than the people themselves? Throughout the year Crazy Horse involves many talents, communities, art forms, and people to tell the story of their people and I am one of the lucky ones to have had the experience. Thank you. 

There are many highlights to share about my residence at Crazy Horse, but one that definitely stands out is meeting Ozzy Osbourne. Yes, even the Prince of Darkness has an interest in American Indian people. Ozzy and his son Jack were in the Black Hills towards the end of October filming for the History Channel. Although specific details are limited, the filming was for a television show that has an Osbourne take on history. Sort of a father-son road trip throughout the world exploring aspects of history. Nonetheless of what areas are being filmed, I had the opportunity to demonstrate my art, my community, and share my music with Ozzy and his son Jack during filming. According to public relations, they took my album The Song of Flower and listened while driving up Crazy Horse Mountain, commenting on my music and discussing the opportunity to meet me. What a privilege! But that is just one of the amazing opportunities that came from participating in the residence program at Crazy Horse. At any given moment, someone that is either widely recognized in mass media or someone in their last week of life can visit the Memorial and having the opportunity to share who you are, where you come, and what you're passionate about is beyond a dream come true.

Another privilege was meeting the many Native people that visited the Memorial. With the Black Hills Annual Powwow taking place during the month of October, the Memorial had a spike in attendance from Native people from the United States and beyond. One thing definitely stood out, they ALL came up to me and shook my hand, and many of them posed for pictures. I try my best to honor where I come from, to honor who we are as Native people and to have been given the respect to simply have my hand shaken was extremely humbling. I felt if anyone deserves to hear the instrument, it's Native people - its songs and instruments as well as their knowledge were taken from us, like many other cultural items. It was an honor to play for them, to have them hear their instrument being played by one of their own in the Indian Museum of North America.

You can learn more about the Crazy Horse Memorial at www.crazyhorse.org. The artist in residence program runs from May through October and is a life-changing opportunity. The folks that run the program are always interested in learning who else is out there and are more than willing to help you find the resources you need to grow and thrive in your culture, your art, and in your life. I would encourage you to learn more about Crazy Horse's residence program at https://crazyhorsememorial.org/artist-in-residence.html 

You can read more about my experiences at www.darrenthompson.net/blog - thank you!