Somehow, someway I made it on the set of the upcoming, independent film titled "Neither Wolf Nor Dog." Wild. The film is based on a book titled Neither Wolf Nor Dog and is written by Kent Nerburn. He is the author of many other books about American Indian people throughout the United States. The film is directed by Steven Lewis Simpson and features the acting talents of Dave Bald Eagle, Christopher Sweeney, Richard Ray Whitman, and Tatanka Means. This is my story. 

"Neither Wolf Nor Dog" was filmed for 4 weeks in and around the Pine Ridge Indian Reservation in South Dakota, through rain, sleet, and snow. In one month it stormed, snowed, temperatures dropped to the 20's and reached to the upper 80's. The landscape was picturesque, emotions were high (and low), and the experiences were absolutely memorable. There is so much to look forward to with the release of the film "Neither Wolf Nor Dog" and while I can I'd like to share a little with you all about my experience being a part of this amazing story. 

Neither Wolf Nor Dog

 features 

Christopher Sweeney

, 

Dave Bald Eagle

, 

Richard Ray Whitman

,

Tatanka Means

, 

Roseann Supernault

, 

Zahn McClarnon

 and a ton of locals from the area. It was weeks of rushing, rushing, rushing and waiting, waiting, waiting. We all lived and worked together and built a phenomenal crew to tell the story of 

Neither Wolf Nor Dog

. Some of the locations that were filmed were the Badlands National Park,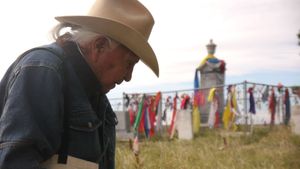 Wounded Knee, the Pine Ridge Indian Reservation, and various spots around the region. Powerful performances were shared both on screen and behind the scenes. Our star was 95 year-old Dave Bald Eagle (photo). It was a remarkable experience working with a man with so much wisdom and the stories he shared through his life were perfect for the character of "Dan" in the film. Having the ability to work with Dave was one of my life's greatest experiences and I have learned so much. I can be safe in saying, everyone on the set learned much from Dave. 
The 
Neither Wolf Nor Dog
 film is based upon a book by the same name written by 
Kent Nerburn
. The film project was directed and produced by Steven Lewis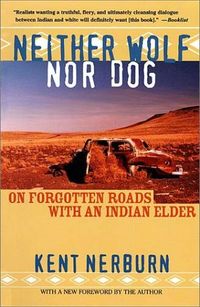 Simpson, director 
Rez Bomb, The Hub, 
and 
Thunder-Being Nation
. For those unfamiliar with the book, it was written nearly 20 years ago and has since sold over 100,000 copies and has won numerous awards including the Minnesota Book Award. Highly acclaimed, it's a story of triumph, learning, and cross-cultural connections. It features the South Dakota landscape and was filmed in and around one of the poorest areas in the country, the Pine Ridge Indian Reservation. Quoting director Steven Simpson amidst the chaos behind the scenes, "This project larger than any of us!" And I am so proud to share some of my story with you. 
The story of 
Neither Wolf Nor Dog
 is a story of modern, or contemporary, Reservation life that very few outside of Indian Country get to experience. It is a story that features two characters from two different worlds, Native and non-Native, challenging stereotypes and myths about the American Indian experience. Along the way, we meet a variety of characters that are common to many Indian Reservations and we see the main characters reactions to every aspect of the story. Each character is challenged and awakened by each other to find a common voice, to share intimate insights about American Indians that very few understand. It is a story that is intended to empower the American Indian voice and it was truly a privilege to work with so many passionate people to tell such a provoking story. 
Expect 
Neither Wolf Nor Dog 
to be a hit in 2015. For more information on the film and it's production, please visit www.facebook.com/neitherwolfnordog. 
I'm working on composing and recording my next album and what better place to do it than the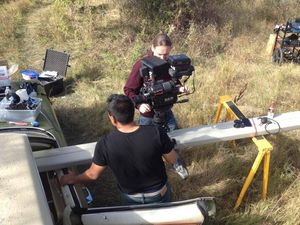 location of this story - the Black Hills. I am working with the location sound mixer of the film, Mr. Rick Van Ness of the Black Hills Film Festival. It is such a blessing to share this experience through the gift of music with the world. Thank you!